Jon Gomm has become a regular at the Guitar Summit and we are very pleased that he will be back again this year.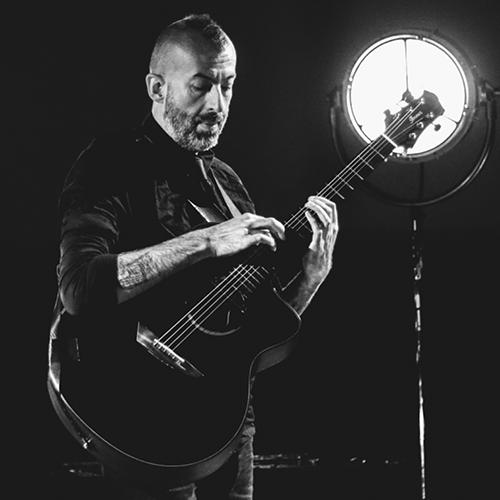 British fingerstyle wizard Jon Gomm is undoubtedly one of the exceptional guitarists of our time. Only a few musicians know how to exploit the many different facets of the acoustic guitar as Jon does. When he plays his acoustic guitar with all possible and impossible playing techniques and sings his song to it with closed eyes, a very unique soundscape is created in which rhythm, harmonies, percussion, sound, vocals and atmosphere are one.  
Jon got his first guitar – actually it was a ukulele, because his parents couldn't find a guitar smaller enough – at the age of two. He wrote his first song at the age of six and soon accompanied his father, a music critic, to gigs in his hometown of Blackpool. Touring musicians often stayed at the Gomms' house for the night under the condition that Jon take guitar lessons, which meant he received one-on-one instruction from blues legends like BB King and Cream's Jack Bruce.During his time studying at the Guitar Institute in London and Leeds College of Music, he played countless live gigs and became an established player in the genre of percussive fingerstyle, which was fairly new at the time but already well established.

In 2012, a single tweet from actor and author Stephen Fry caused the video for his song "Passionflower" to go viral and Jon gained major media attention both through newspapers and on TV.